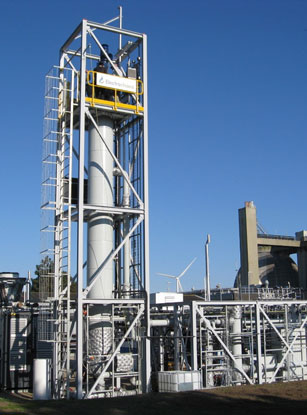 Power-to-gas
Biogas produced in anaerobic digestion contains around 60% methane and 40% CO2. While methane can be readily utilised as fuel for CHP plants or directly injected into the gas grid, CO2 cannot be valorised and is usually emitted to the atmosphere. Using a power-to-gas (P2G) technology, this CO2 could also be converted into valuable biomethane by methanation.
This process describes the conversion of CO2 and hydrogen into methane, which can be realised by catalytic or biological processes. Hydrogen can be produced with an electrolyser operated during times of low electricity prices, producing H2 and O2 from water. While H2 is used for methanation, O2 and excess heat of the electrolyser can be used on-site to cover the internal demand of oxygen for the activated sludge system or to provide heat to the WWTP. The use of a P2G plant enables the integration of WWTP infrastructure into the dynamic energy market of the future and optimises economic revenues from biogas production.
What purposes?

Which technologies?

Where?
Technologies
Biological methanation
Biological methanation uses specific microbial metabolisms to generate biomethane out of CO2 and hydrogen. Archaea bacteria are capable to realise this conversion, using CO2 from biogas upgrading and H2 from water electrolysis. The technology has been realised in pilot and full-scale plants up to 1MW of electrical power in electrolysis. The reactor design is crucial for an efficient process to overcome the physical challenge of dissolving H2 into water. The process is scalable and can be operated at full or part-load with short start-up times, operating either on biogas directly or on CO2 from biogas upgrading.
The produced biomethane can be injected to the gas grid for large-scale and long-term storage or used locally, e.g. as fuel for transportation. Besides the energy storage aspect, biological methanation contributes to CO2 recycling, and electrolysis generates valuable by-products such as oxygen and heat at 65oC for direct use at the WWTP.
Catalytical methanation
Biogas produced in anaerobic digestion of sewage sludge contains 60-65% methane and 30-35% CO2. If CO2 is separated from biomethane in an upgrading step, it can be used in a Power-to-Gas approach to be converted to biomethane. Utilising hydrogen which is produced in an electrolyser, the process of methanation converts H2 and CO2 into CH4 (Sabatier reaction).
Methanation can be reached in a physico-chemical process with catalytic methanation, or using microbial activity in bio-methanation. Catalytic methanation uses a metal catalyst to enable the chemical reaction, but requires high temperature (350-550°C) and pressure (1-100 bar) and is affected negatively by gas impurities. Currently, catalytic methanation is limited to a CO2 conversion of ca. 80%. Full-scale application of catalytic methanation is still under development, and different reactor configurations and operating modes are tested.