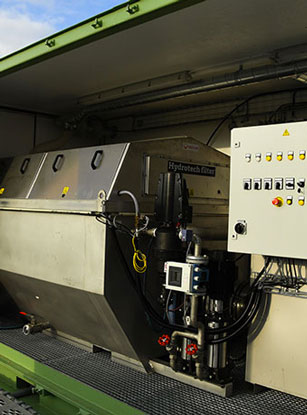 Enhanced C extraction
Municipal wastewater contains a variety of organic substances, and the embodied carbon represents a potential source of chemical energy. Traditional WWTPs separate a fraction of this carbon (up to 50%) into primary and excess sludge, while the remaining part is converted to CO2 in biological treatment by microbial biomass. The latter part requires a high amount of electricity for oxygen supply, and wastes the potential energy contained in this part of the organic matter.
Enhancing the extraction of carbon into sewage sludge in the WWTP process will increase the potential biogas yield and decrease efforts for treatment, thus improving the overall energy profile of the WWTP considerably. Enhanced carbon extraction can be realised by advanced primary treatment combining chemical dosing with sedimentation, filtration or flotation processes to separate most of the particulate matter. After enhanced carbon extraction for energy recovery, downstream biological nitrogen removal has to be optimised to safely fulfil effluent quality targets.
What purposes?

Which technologies?

Where?