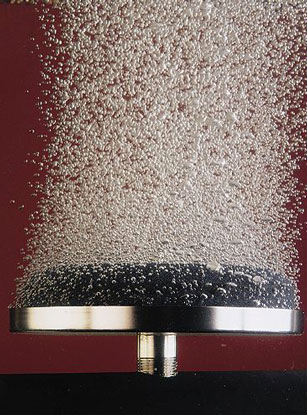 Efficient aeration
Aeration of the biological stage is the major driver for energy demand at a WWTP, typically accounting for 40-60% of the total electricity demand. Hence, improving the efficiency of aeration is a key measure to reduce electricity consumption and related costs of WWTP operation. Aeration efficiency can be increased by improving the transfer of oxygen from the gas into the liquid phase, e.g. by replacing mechanical surface aerators or upgrading bubble aeration with new diffusors for fine-bubble aeration.
In addition, aeration demand can be more precisely adjusted to the actual requirements of the biological process with frequency-controlled blowers and online aeration control based on automatic sensors for dissolved oxygen and ammonia.
What purposes?

Which technologies?

Where?
Technologies
Activated sludge
The process of activated sludge has been developed more than 100 years ago. It is based on the removal of dissolved substances from wastewater using suspended microbial biomass ("activated sludge"). Using the metabolism of the microbial biomass, organic matter and other pollutants such as nitrogen and phosphorus are eliminated to atmosphere or transferred into the biomass. This process requires large amounts of oxygen, which is supplied to the biomass by introducing air into the system. Aeration can be realised by e.g. bubble diffusors or surface aerators, and aeration efficiency is a major cost factor for WWTP operation.
While most of the biological sludge is separated from purified water in a final sedimentation tank (clarifier) and recirculated to the activated sludge process, a fraction of the surplus sludge is separated as excess sludge from the treatment process. There are multiple configurations for activated sludge systems to enable the enrichment of specific microbial groups for elimination of nitrogen and phosphorus. Sludge age, biomass concentration and oxygen conditions are major parameters to be adjusted in an activated sludge systems to guarantee the desired capacity of the treatment process.
Membrane aerated biofilm reactor
This technology was not part of the POWERSTEP project.